With the end of summer in sight, are you already dreading the moment when you will no longer be able to dip even a toe into your pool? Have you dreamed of installing a heat pump to extend your swimming season? In fact, a heat pump, for a pool, has the advantage of transforming the heat present in the air and reusing it to heat the water in the pool. Water at 28 °C in October, does that tempt you?
Outside temperatures, size of the pool, efficiency of the pump … Read all our advice on how to choose the heat pump that is best suited to your needs!
Selection criteria for a heat pump for your pool:
• Noise
Some heat pumps are noisy: if you have to place your heat pump close to the pool basin, go for a silent model. The EnergyLine Pro Fi Inverter pumps have a super-silent compressor and a DC Inverter fan. In regulation mode, these pumps make no more sound than a puff of air: only 20 dB!
• Active defrosting
Depending on which region you live in, the active defrost function will be your best friend and will allow optimal operation at low temperatures.
• Connected heat pump
Very simple to use thanks to the SmartTemp module developed by Hayward: this is connected to the EnergyLine Pro Fi pump, so you can start up the heat pump remotely and control the temperature from your smartphone. Practical for when you come back from a weekend away and you want to go for a swim
• Inverter technology
The new Inverter technology adjusts the energy consumption of heat pumps thanks to a rapid rise in temperature and maintenance at a setpoint temperature using reduced power. This regulation as a function of outdoor conditions results in savings of up to 30 %.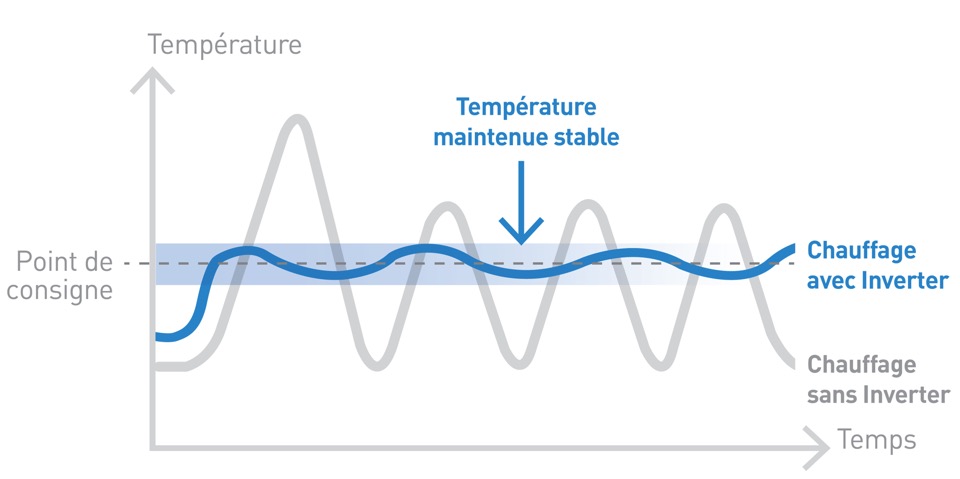 Inverter technology
• The volume of your pool
This is the last deciding factor for the type of heat pump that you will need. The models vary For example. Depending on the number of cubic metres of water to heat: the Energyline Pro for all season & large pools is perfectly suited to very large volume pools and processes up to 200 cubic metres of water.
Usage criteria for the heat pump for your pool:
There are a few essential questions that you need to ask yourself in order to decide which model you will need:
• What swimming temperature do you want?
• Do you want both heating and cooling for your pool?
• What seasons do you want to swim in? (June to September or all year round?)
• Do you have an indoor or an outdoor pool?
• What are the minimum temperatures in your region? What is the climate like in general?
The outside temperatures are a key variable to take into account. The all-season EnergyLine Pro model is specifically designed to be used for outside temperatures as low as -12 °C!
You now have all the information you need to choose the perfect model of heat pump for your pool. If you have any further questions, we will welcome you at one of our partners in the Totally Hayward network, who will be able to advise you on your particular requirements.